The Faculty of Education (FoE) Studio is a multimedia production space located in the Neville Scarfe Building, Room 1009, in the Faculty of Education (FoE).
Its purpose is to provide FoE instructors and staff with an accessible and specialized space equipped with state of the art audio-visual equipment and professional assistance to create high-quality educational materials, videos, and podcasts.
---
FEATURES 
---
Professional video equipment
Profesional audio equipment
Green and blue screen
Graphic tablet
Lightning
Production software
Hardware
Acoustic treatment
---
USAGE
---
Podcasts
Record audio files using professional microphones to achieve crisp-sounding results. The acoustic treatment in the studio reduces undesired effects such as excessive reverberation.
Lectures
Record high-quality educational presentations combining multiple video sources. The studio's video switcher is connected to 2 cameras (for 2 different angles), a computer, and a graphic tablet, enabling users to create dynamic and engaging content. The blue and green screens can be used to create personalized backgrounds using chroma keying.
Instructional Videos
Record screencasts with high quality audio. Your personal computer can also be connected to the system and the studio camera's can be used to include video feeds.
Post-Production
Use a variety of professional graphics, audio, and video creation and editing software such as Adobe Creative Suite and Reaper to fine-tune content created at the studio, create new content, or work on content you've already produced.
Live Streaming
The studio's video switcher includes capabilities that allows users to live stream to YouTube and other video platforms via ethernet. Similarly, the switcher can be used as a video input source to create live dynamic and innovative presentations on Zoom.
Interviews
Record professional interviews using multiple cameras and microphones with appropriate lightning and acoustics. Additional video inputs can be incorporated into the interviews for referencing.
Announcements
Provide information to your audience with high-quality audio and video, and use the green or blue screen to customize your background. Additional video inputs can be incorporated into the announcement for referencing.
---
PORTFOLIO
---
Visit our portfolio page to review the projects we've done in the FoE studio
---
REVIEWS
---
"The LDDI staff was amazing in walking me through options to shoot my first video for teaching, as well as editing it according to my specifications. I'm so grateful to have this professional service and space available; it's a game-changer for my teaching/educational leadership activities!"
– Dr. Joshua Madsen
Department of Educational and Counselling Psychology, and Special Education (ECPS)
"Pleasantly surprised that such a well-equipped studio is available for producing professional recordings for our research project and teaching. Eduardo's knowledge and expertise in explaining the process and getting us started was invaluable – thank you!"
– Dr. Cynthia Nicol
Department of Curriculum Pedagogy (EDCP)
"I am very impressed by the professional and friendly service I received when recording my speech for a student awards ceremony. A big thank you!"
- Dr. Kristiina Kumpulainen
Department of Language Literacy Education (LLED)
"The LDDI team did an incredible job setting up the FoE Studio with functionality in mind. We had the necessary equipment and lighting for our video recordings. Eduardo, leading the studio sessions was patient and professional. He was very artistic and engaged throughout the process, suggesting various creative ideas. The LDDI team really exudes the vibrant energy that permeates the studio."
- Dr. Sofia Noori
Department of Curriculum Pedagogy (EDCP)
"I have really enjoyed working with LDDI and I think they are very skilled and professional. The studio itself appears to have all the necessary tools and is a real boon to the faculty."
- Dr. Robert VanWynsberghe
Department of Educational Studies (EDST)
"I had a great experience working with the LDDI team at the FoE studio. The staff are friendly and happy to help you navigate the professional equipment they have set up. We were able to film a video for my project efficiently, and I'm very happy with the finished product. A great service that I will definitely be using again in the near future!"
-Sarah Azad
Teacher Education Office (TEO)
"The studio is such a valuable and important resource in the faculty and it was a great experience recording there last summer. I look forward to working with you again!"
- Dr. Liam Doherty
Department of Language and Literacy Education (LLED)
---
PHOTO AND VIDEO GALLERY
---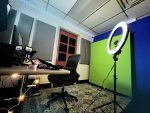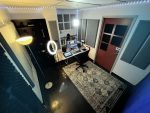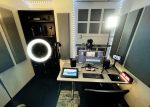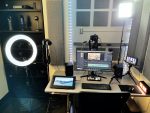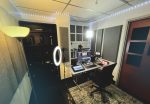 Time-lapse
Watch this time-lapse to unveil how the studio was built!:
---
CONSULTATION, BOOKING, AND SUPPORT
---
To access the FoE Studio, please contact LDDI for a consultation to discuss your project concept and the use of the equipment. If you have any questions or concerns about the development of your project, LDDI will provide all necessary technical and post-production support as needed. Select the FoE Studio Consultation Form button below to book your consultation.