The Faculty of Education (FoE) Studio is a multimedia production space located in the Neville Scarfe Building, Room 1009, in the Faculty of Education (FoE).
Its purpose is to provide FoE instructors and staff with an accessible and specialized space equipped with state of the art audio-visual equipment and professional assistance to create high-quality educational materials, videos, and podcasts.
---
FEATURES 
---
Professional video equipment
Profesional audio equipment
Green and blue screen
Graphic tablet
Lightning
Production software
Hardware
Acoustic treatment
---
USAGE
---
Podcasts
Record audio files using professional microphones to achieve crisp-sounding results. The acoustic treatment in the studio reduces undesired effects such as excessive reverberation.
Lectures
Record high-quality educational presentations combining multiple video sources. The studio's video switcher is connected to 2 cameras (for 2 different angles), a computer, and a graphic tablet, enabling users to create dynamic and engaging content. The blue and green screens can be used to create personalized backgrounds using chroma keying.
Instructional Videos
Record screencasts with high quality audio. Your personal computer can also be connected to the system and the studio camera's can be used to include video feeds.
Post-Production
Use a variety of professional graphics, audio, and video creation and editing software such as Adobe Creative Suite and Reaper to fine-tune content created at the studio, create new content, or work on content you've already produced.
Live Streaming
The studio's video switcher includes capabilities that allows users to live stream to YouTube and other video platforms via ethernet. Similarly, the switcher can be used as a video input source to create live dynamic and innovative presentations on Zoom.
Interviews
Record professional interviews using multiple cameras and microphones with appropriate lightning and acoustics. Additional video inputs can be incorporated into the interviews for referencing.
Announcements
Provide information to your audience with high-quality audio and video, and use the green or blue screen to customize your background. Additional video inputs can be incorporated into the announcement for referencing.
---
PHOTO AND VIDEO GALLERY
---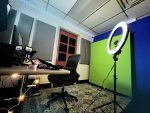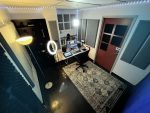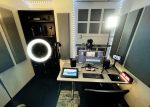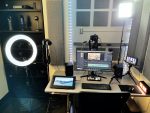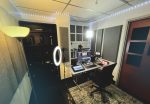 Time-lapse
Watch this time-lapse to unveil how the studio was built!:
---
CONSULTATION, BOOKING, AND SUPPORT
---
To access the FoE Studio, please contact LDDI for a consultation to discuss your project concept and the use of the equipment. If you have any questions or concerns about the development of your project, LDDI will provide all necessary technical and post-production support as needed. Select the FoE Studio Consultation Form button below to book your consultation.